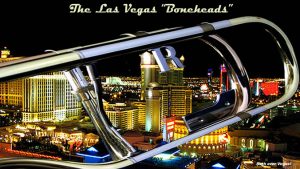 The Boneheads—originally founded by Abe Nole in 1962 —had six trombones and three rhythm players (piano, bass, and drums). The founding members were professional trombone players in the Las Vegas showrooms and consisted of Abe Nole, Charlie Loper, Archie LeCoque, Tommy Hodges, Pat Thompson and Bill Smiley. They rehearsed on the second floor of the old Silver Slipper on The Las Vegas Strip and occasionally at Abe's home.
By the late 1960's the group typically rehearsed backstage at the Frontier Hotel, or the at the Village Pub on Koval Lane, and had changed personnel. At that time the tenor trombones were Bill Booth, Jim Huntzinger, Ed Morgan and the legendary Carl Fontana. The bass trombones were Bill Rogers and Ralph Pressler. The Boneheads would perform at UNLV or after hours at the musician's union hall. Some of the rhythm section players over the years were: Piano – Mike Breen, Frank Collett, Tommy Todd and Ronnie Simone. Bass: Carson Smith, Bob Badgley, Brace Phillips and Ken Seiffert. Drums – Clyde Duell, Karl Kiffe, Tom Montgomery and Santo Savino.
The musicians would work two shows per night, six or seven nights a week, and then get together after hours for their own enjoyment. They would perform with every star on the strip, from Sinatra's Rat Pack to Elvis and numerous production shows.
Other trombone players that were members of the group in the during the late 70's and early 80's were Curt Miller, Dick McGee, Bob Scann, Ron Sprouse, Jimmy Trimble, Marty Harrell, Dick "Stretch" McQuary, Dwight Davis and "Hoot" Peterson. "Stretch" arranged a number of Bobby Brookmeyer compositions in the early 1970's that eventually became the foundation of the "new" Boneheads' book.
The group and the book disappeared sometime in the mid 1980's and was not heard from again until 2011 when Curt Miller decided to reconstruct the nearly fifty-year-old ensemble. Such notable composers/arrangers as Gary Anderson, Jim Belk , Steve Flora, Nate Kimball, Curt Miller, and Barry Ross have contributed new charts to the book and updated the concept of the group.
The players rotate depending on availability, and the group has become known as the "ultimate trombone band" – the players always jump at the chance to play with the group. Curt Miller is the leader and coordinator of the group, and the players that routinely play with the group are Matt Johnson, Nate Kimball, Nathan Tanouye, Sonny Hernandez, Ralph Pressler, and Andrew Boostrom. The rhythm section is comprised of Uli Geissendoerfer on piano, Steve Flora on bass and Larry Aberman on drums.
The Las Vegas Boneheads completed their first CD recording in early 2017, and in 2022 a 2nd CD was released in mid-November entitled "Sixty and Still Cookin'" featuring the amazing Andy Martin as guest artist.